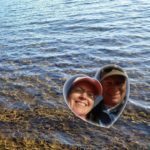 Great loop hike around Sterling Lake that starts and ends at the Lautenburg Visitors Center.  The hike is easy to moderate and is 4.2 miles long.  We have hiked it clockwise and counter clockwise.   We recommend counter because it starts off steep and is easier when returning.  Take a left out of the front door and follow blue blazes.
Hint 1—just past ruins on the right at end of hike you will be traveling on a road.   Keep your eyes open for the blue marker on your left.   A narrow path takes you back to visitors center.
Hint 2—Half way around, on the far side of the lake is a beach.   If you want some nice views of the lake to take a break, this is the spot!
Sterling Lake Hike You Tube Video
New York, New Jersey Trail Conference Site
Friends of Sterling Forest Site